TOMITA's products never appear on the front stage, yet, they are active in our daily life. Our products play an important role in controlling the main functions of items essential in our daily life or work. You'll find our products in televisions, VCRs, audio equipment, cameras, computers, cellular telephones and office equipment
Ferrite is magnetic material in the form of a crystal structure of compounds containing ferric oxide. There are mainly two types of ferrites: soft ferrites and hard ferrites. TOMITA is specialist manufacturer of soft ferrite products
Ferrite Cores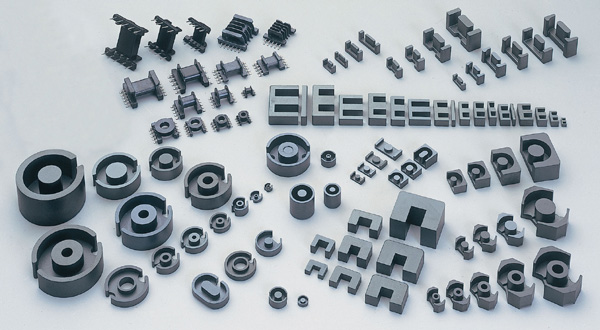 Compared to a metal-based magnetic material,ferrite cores can be used in a high-frequency range.These ferrites are very useful in the miniaturizing of electronic equipment and energy conservation.
Coils And Transformers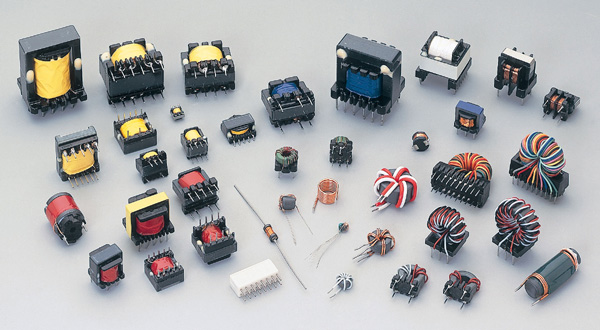 These are soft ferrite applied products which are built into various electronic circuits such as transformers and coils.
[Application]
Televisions, VCRs, Personal Computers, Inverter Lighting, Industrial Control Equipments, etc.
Soft Ferrite Cores
[Majar Application]
Switching Power Supply Transformers,Various High Frequency Transformers,Transformers for Telecommunications,High Frequency EMI Filters,Low Frequency Noise Filters
[Major End Products]
Personal Computers, LAN, and Other Peripherals,Internet Equipment Peripherals,CATV Related Equipment,Cellular Telephones,Photocopiers,Fax Machines,Multi-Functional Telephones,Digital Cameras,Stroboscopic Cameras,Alarm Wristwatches,Fluorescent Light Bulbs,Lighting Equipment,Mobile Electronic Devices,Televisions,Radios,VCRs,Video Game Systems,Air Conditioners,Electric Shavers,Heaters (Ignition Devices),IH (Induction Heating) Rice Cookers,Washing Machines,Vending Machines,FA, N.C., Robots,Medical Appliances,Other Electronic Products
ISO9001 Scope of Registration:
THE DESIGN / DEVELOPMENT, MANUFACTURE AND SALES OF FERRITE CORES AND COIL-TRANSFORMERS.
ISO14001 Scope of Registration:
THE DESIGN / DEVELOPMENT AND MANUFACTURE OF FERRITE CORES AND COIL-TRANSFORMERS. (HEAD OFFICE / PLANT)